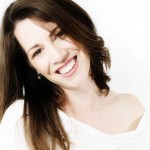 Try this Fast & Easy Ceasar Salad Recipe for Dinner
What I love about this Ceasar Salad Recipe is how fast and easy it is to make and my lil's will actually eat it!  While Ceasar salad it's not the healthiest of all salad options – it's a yummy alternative to have on occasion.   It's also important to break up the dinner routine – which in our house is spinach with red peppers – or else everyone's taste buds just get bored.
This Ceasar Salad Recipe cheats a little – using mayonnaise instead of raw egg (which always make me nervous) and skipping the anchovies.  So while this recipe may not be for Ceasar Salad purists… it is fast, easy, and child friendly – using ingredients you already have in your pantry and refrigerator.
Ingredients for our Fast & Easy Ceasar Salad Recipe

1 head of Organic Romaine Leaf Lettuce
2 Tablespoons of  Organic Mayonnaise
2 Tablespoons of Yogurt
1 Teaspoon of Worcestershire Sauce
2 Tablespoons of Lemon Juice
1/2 – 1 Teaspoon of Garlic Powder or 1 Clove of Crushed Fresh Garlic
1/4 cup of Parmesan Cheese
Pepper to taste
Parmesan Crisps
Ceasar Salad Recipe Instructions
Wash and dry your lettuce, then tear your romaine into the size and shape you prefer for your salad.  I like to break it across the core or cut it with a lettuce knife – which  prevent the edges from browning.
Combine the mayo, yogurt, Worcestershire sauce, lemon juice & garlic powder in a small dish or measuring cup and blend well.
Toss the dressing with the lettuce.
Toss with the Parmesan Cheese and season with a dash or two of pepper.
Garnish with a few Parmesan Crisps or Croutons.
Make this Ceasar Salad Recipe a full meal by topping your salad with leftover rotisserie chicken, grilled steak or Salmon.
Share your favorite Salad or Ceasar Salad Recipe with PND?