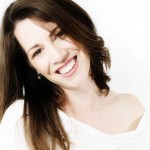 What self respecting diva doesn't love a trip to the salon?  Even better – I love discovering a new eco conscious beauty salon.  One of my latest discoveries is Primrose Organic Salon & Boutique in Los Feliz.
PND was invited to come in for a review – given that I love nothing more than discovering new places to share with my readers – I was excited to check it out.
The salon is in trendy Loz Feliz and the mood is comfortable, cute with a retro vibe.  On walking into the salon – the first thing you might note is what is missing – the absence of a strong chemical smell that accompanies so many salons.
Primrose opened in 2009.  It was a partnership between Felicia Howe,  the salon's head stylist and Melissa Tornay, who overseas the business and retail side of their business.  They are committed to bringing their clients the safest & best performing products coupled with outstanding services.
I was treated to a fantastic cut & color by Felicia – the salon primarily uses the Organic Color Systems Color Line, with the additional option of Davines for those who need a gluten free option.
I've been wearing Felicia's cut for a few weeks now and have found it to style beautifully.  The color added just the right amount of auburn to my brown locks – while still looking very much like it was my own color – so let's keep the fact that it's not our little secret!
One of the things that really impressed me about the salon was how informed Melissa is about the products she has handpicked to sell in the store.  For your product needs tell her your exact priorities and she'll match the line to your wish list, from the ultra safe & purest organic ingredients, to the safer – but not perfect – high performing, to gluten free – she'll break it down for you.
My purchases included a new hairspray, lip balms & homemade soaps!  I couldn't resist.
Pricing at the salon is comparable to conventional salons with a cut & style priced at $60 and the single process color priced at $70.
I'll be back soon – well worth the drive across town!
To book an appointment:
(323) 664-5446
4616 Hollywood Blvd, Los Angeles, CA  90027