I found this on a recent internet prowl.  It's from Focus Organic and has great ideas for Halloween. Now that the school year is in full gear… Halloween is just around the corner!
By Stephanie
I love Halloween, so it's never too early to start getting ready to me! The following is an article by Lynn Colwell and Corey Colwell-Lipson, mother and daughter and co-authors of Celebrate Green! Creating Eco-Savvy Holidays, Celebrations and Traditions for the Whole Family, available at www.CelebrateGreen.net
Halloween should be fun, but every year it gets scarier–for parents and the planet. From the discovery of lead in fake teeth and candy, to chemicals in costumes, to the garbage left in the holiday's wake, it's a wonder more of us haven't given up the festivities and spent October 31 watching It's the Great Pumpkin, Charlie Brown.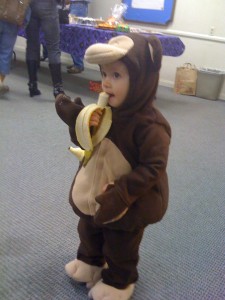 The good news is, there are loads of child- and earth-friendly alternatives to the usual Halloween fare.