Argan oil is one of the hottest new trends in beauty – for good reason too!  After reading this it may become an essential part of your natural beauty routine.
Argan oil is a very versatile compound that is extracted from the kernels of the argan tree in Morocco. While it's often added to the formulas of commercial hair and skin products, there are also tons of different ways to use the 100% natural oil itself. Here is a list of just a few of the many uses of argan oil and the ways in which they can benefit your beauty and your health.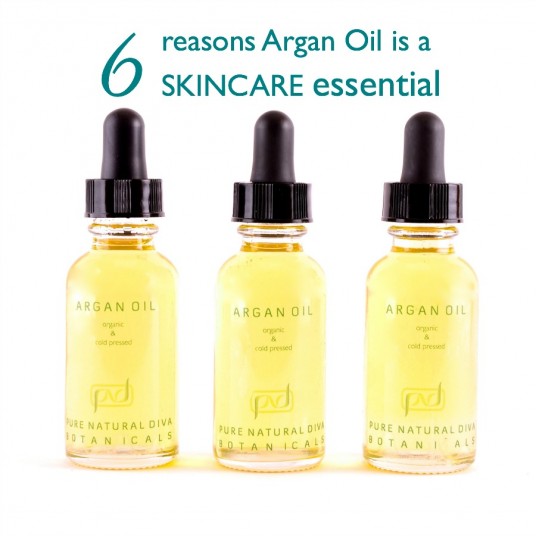 Reasons Argan Oil is a Skincare Essential
Moisturizer
Argan oil is an excellent natural alternative to your laboratory-made moisturizer. It is commonly used to restore hydration to dry skin and to keep it soft and healthy. Argan oil is high in vitamin E and in healthy fatty acids, both of which help your skin to retain moisture. The natural compounds in the oil are easy for your skin to absorb, making it one of the best natural ways to moisturize your skin. It is safe to use on all areas of your body, so feel free to use this oil to moisturize all of your skin, from head to toe.
Anti-Aging
That's right—you finally have an ally in the eternal fight against premature skin aging. Argan oil has incredible anti-aging properties. The antioxidant polyphenols present in the oil help to fight free radicals, minimizing or eliminating the damage that they can do to your healthy skin cells. Fighting that damage can help to stop the development of wrinkles and saggy skin. This ideal natural oil is a powerful weapon in the fight against skin aging and leaves your skin looking and feeling beautiful and plump.
Acne Treatment
One of the most surprising uses of argan oil is for the treatment and prevention of acne. While adding oil to oily, blemished skin seems counter-intuitive, argan oil actually promotes smooth skin and helps to heal blemishes and pimples. Its antioxidant properties can also reduce inflammation and keep your skin cells healthy and whole, as mentioned above. Applying just a few drops of this impressive natural oil can help to restore the balance of moisture in your skin and assist your skin in healing its imperfections.
Healing and Skin Repair
This miraculous substance can actually heal your skin. The polyphenol compounds contained in argan oil that fight free radicals can actually help dry, cracked, or even burned skin to heal more rapidly. The antioxidant abilities of argan oil serve to reduce inflammation and stop free radicals from causing further damage to the healthy cells of your skin. It is also known to be soothing and give some relief from the pain of severely damaged skin. Rub a little bit of argan oil into an area of damaged or traumatized skin on a regular basis in order to soothe the area and speed up your skin's recovery process.
Stretch Mark Treatment
Any mother with a little one on the way will appreciate this, one of the handy uses of argan oil. Due to the vitamin E content of this fantastic oil, it is often used as a remedy for stretch marks. Applying vitamin E compounds to your body helps to increase the elasticity of your skin, which helps it to withstand the stretching that occurs during the later stages of pregnancy or during any kind of weight gain or change in body shape. It is safe enough to be used on any part of the body, from your belly to your breasts to your thighs. Use argan oil as a measure to prevent stretch marks.
Nail Health
Here's a little known fact: ears and years of manicures and pedicures can actually harm your nail health by hardening your nails and the surrounding skin. Argan oil is an excellent thing to apply to your nails to keep them strong and healthy. Those with rough cuticles or brittle nails can really benefit from the use of this marvelous oil. Just like it does with your skin, argan oil provides critical moisture to your nails and cuticles. Simply rub a little bit of this oil onto each nail, paying particular attention to the cuticle if it is unhealthy, on a regular basis. Soon, you will see the beneficial affects of this totally natural nail treatment.
With all of the wonderful uses of argan oil that are available, it is no wonder that this great natural product is gaining popularity as a health and beauty treatment all over the world. It's truly an essential for any natural beauty aficionado's beauty regime.
Did you enjoy this article – if so be sure to sign up to become a Pure Natural Diva VIP so you don't miss any of our  updates!
AND
If you're ready to experience the benefits of Argan Oil first hand – we do sell it.  Pure Natural Diva Argan Oil is 100% pure, it's not diluted or cut (a practice typically employed with less expensive "argan" oil brands), it's cold pressed and OTC certified organic.