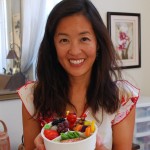 By Sheri
Think you can't make a cute, appetizing, healthy bento for your young children or preschooler?
Think again, it's really quite simple when you break it down into a few simple steps!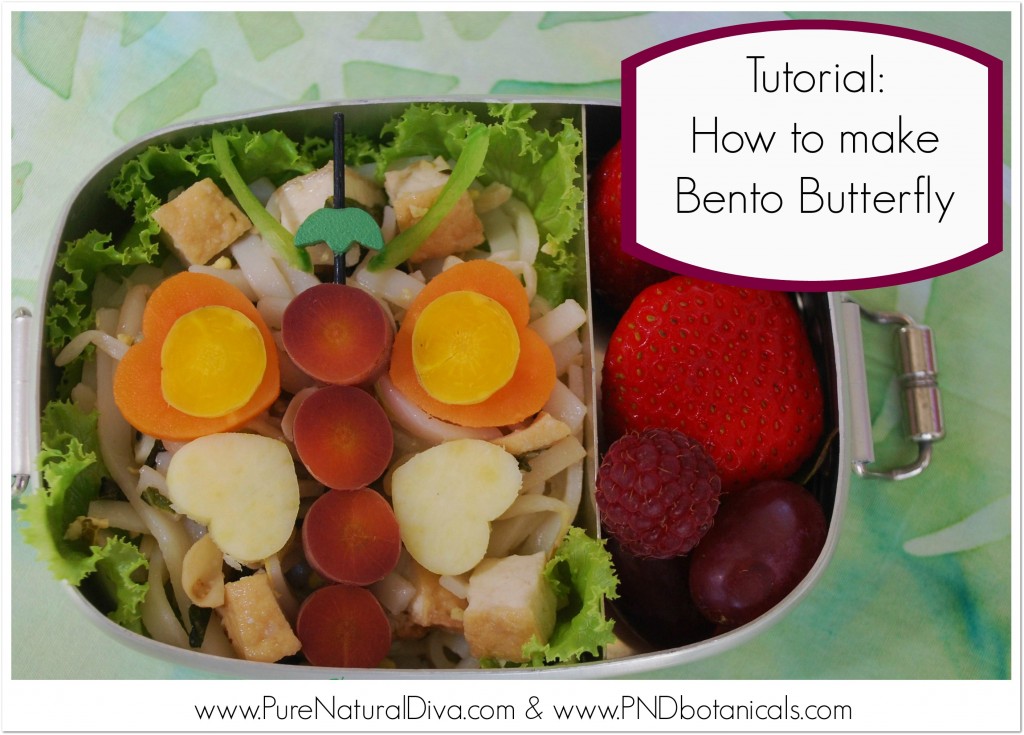 Instructions for a how to make a Bento Butterfly

Start with a smallish size (200-350ml, or whatever you think is appropriate for your child's appetite) bento box. This one is metal, with a tight-sealing lid and a divided section.

I put a variety of fresh fruits in the small section.
Then line the larger section with a few lettuce leaves for decoration.
On top of the lettuce I put some homemade vegetarian pad thai noodles. Many kids love noodles, and they are great bento fillers. You can also use whole wheat or whole grain spaghetti or shaped pasta. Do you have any leftover noodles that need to be used?This bento is nice as is, but if you add a little more decoration you might entice your child to eat a few more veggies.

How to make a bento butterfly body:

Use a wooden skewer to poke through some sliced steamed carrots. I used purple carrots.For the wings, use some heart-shaped cutters to make two different sized hearts from different colored steamed sweet potatoes. Here I used garnet and satsumaimo (Japanese white-colored sweet potato).

Place the wings next to the body, and decorate with sliced yellow carrot circles.

Finally, use a steamed snap pea for the antenna.Suddenly you have a butterfly in your bento.
The veggies I used are suggestions – so when getting ready to make lunch or snack – take a look in your own crisper to see what kinds of produce you have to substitute — beets, broccoli, even tomatoes can brighten up a lunch to make it look more appealing. Select the ingredients you are going to use. Steam the items that need cooking. Then follow the above instructions for assembly
Believe it or not, adding a cute touch will only take a few more minutes of your time. Even my 2-year old daughter will agree to eat a few veggies artfully arranged in a fun bento.
Sheri is a bento artist and mom of 2 living in Northern California. Her goal is to help children discover that healthy and nutritious food can be delicious and fun to eat. She uses the bento box as a means of presenting a balanced meal in a beautiful way…and give the kids a smile at lunchtime. She blogs at Happy Little Bento.
Pure Natural Diva Update!
Did you know that I've turned my passion for tinkering with formulas into a business!  If not, be sure to check it out!  I've created a line of all natural botanical perfumes that has received accolades from WWD & Fragrantica.com!  I'm proud to share them with you at www.PNDbotanicals.com.  To stay up to date on all the latest diva happenings become a Diva VIP – you'll get free shipping on all orders over $50 and exclusive offers not available anywhere else!

Now that you have learned how to make a bento butterfly, do you think you'll try it?