Eco-conscious laundry care is more than using organic detergent.
For some, it means avoiding detergents completely. And for others, it's also about being eco-efficient.
Whether you're new to embracing eco-fashion or you've been sporting hemp and organic fabric before it became hipster, caring for your clothes in a conscious manner is a different story. Small changes will make a big difference not only to the environment, but also on your health. Choose what eco-changes make sense for you, right now.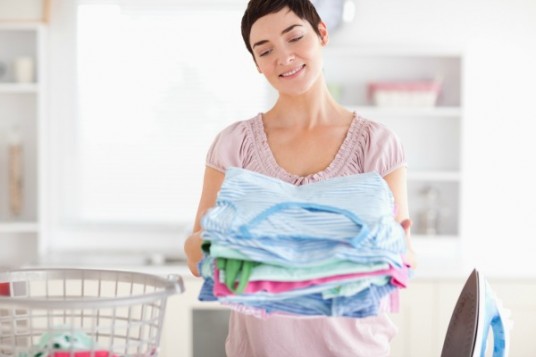 Laundry Care: Detergent
Many, if not all, commercial detergents contain chemicals that are harmful to you and the environment.  Consider these eco-safe and friendly laundry care detergent options.
Read the label: Similar to reading food labels, if you can't pronounce the name of the ingredients listed, they are likely to be chemicals. Less ingredients is better, just like with your food products.
Go natural:  Some natural and eco-friendly laundry care detergents recommended by industry professionals in eco-fashion and design include:

Castile Soap. Lori Del Genis, sustainable and eco-friendly dressmaker of Conscious Elegance, prefers castile soap. She recommends avoiding soap that contains ingredients such as wax, petroleum or their derivatives, as these products may leave a residue and cause oil spots.
Liquid Sunshine by Vermont Soap Organics. According to Dianne Martz, cofounder and principal of Sustainable Life Solutions LLC, who personally uses the product, said "it is so eco-friendly that you could use it as salad dressing!"

Skip detergents all the way: Now this is something I would have never thought about until Lori Dennis, interior designer and author of Green Interior Design, swore by it. According to Lori, "I gave up on detergents and now use baking soda, vinegar and hot water on whites, cold water on colors." Her philosophy is all about keeping things simple. "I don't imagine a Native American or pioneer by a river using measuring cups when figuring out how to clean clothes." For large loads, Lori suggests you grab a fist full of baking soda and a four-second pour of vinegar. Reduce for smaller loads, proportionally. Dianne Martz is also a fan of vinegar as a natural fabric softener.
Curious about the effectiveness, I put these recipes to the test. I was impressed. Clothes came out clean, fresh and soft. (I may never use detergent again.) Only thing to note, be sure to spot treat stains before wash.
Eco-efficient laundry care: Reducing water and energy use
Laundry care is a mundane task we take part in regularly. Unfortunately, it's also a big source of water and energy use in your home. Being eco-friendly in an approach to laundry care should also take consideration of being eco-efficient. It's as easy as making a few changes:
High-efficiency washers: Look for washers that are ENERGY STAR rated.
Use less hot water: According to American Council of Energy-Efficiency Economy, 70-90% of the energy used by a washing machine goes towards heating the water. So the simple task of changing from hot to cold water can be a significant source of energy savings (not to mention save you money as well).
Line dry (when possible): This is news to me, but did you know there is no government regulation to display an EnergyGuide label on dryers? Maximize on your dryer usage time. On most occasions, I throw my clothes in the dryer for 5 – 10 mins, and line dry it (even in my small NYC apartment). Clothes come out wrinkle-free too. If you have a backyard, consider line-drying on a sunny day.
Leave the door open after use: According to the ENERGY STAR site, front loading washers use airtight seals to prevent water from leaking while the machine is in use. When not in use, the seal can trap moisture and lead to mold.
Dry cleaning & laundry care
Many eco-conscious consumers avoid it completely because of the known  environmental and health concerns caused by the commonly used "dry-cleaning fluid", tetrachloroethylene, also known as "perc".
According to Tim Maxwell, president of GreenEarth, "people tend to lump all dry cleaning methods into the same 'environmentally unsafe' category." He further states that there is a difference with GreenEarth, which is a green dry cleaning process that removes petroleum-based solvents with liquid silicone. It is one of three environmentally safe methods of dry cleaning. The other two are CO2 cleaning and 100% wet cleaning.
Personally, I've made a new commitment to dry clean less and I've found that many "dry clean only" items can be hand washed or cleaned on gentle cycle.
Lori Dennis shares the same sentiment and says, "I'm a fan of washing only what needs to be washed on expensive dry clean only items – i.e., a cashmere sweater can be blotted in the arm pit area (where you might have sweated a bit) with the vinegar, water, baking soda concoction applied with a clean, white rag and then air dried."
But for those who want an eco-safe professional laundry care cleaning option (for those really hard to clean items like cashmere, wool, natural fibers, leather and suede), Tim Maxwell recommends these tips when researching a green dry cleaner.
"The easiest way to tell if your dry cleaner is really green? The sniff test. If your dry cleaner cleans on premises, and you can detect an odor – either on the clothes or in the plant, they are using a petroleum based solvent. A truly green method has absolutely no odor. "
"Avoid dry cleaners claiming to be 'organic'. These cleaners are using either perc or hydrocarbon solvent. Marketing claims for dry cleaning are not regulated like food claims and many dry cleaners use these terms in misleading ways."
"To be truly green from the beginning to end, you want to patronize cleaners that clean, hang and package your clothes using only eco-friendly materials."
Speaking of eco-friendly packaging, think about bringing your own garment bag to a "green" dry cleaner. Our editor recently discovered The Green Garmento™, which is a 4-in-1 reusable bag that can "green your dry cleaning routine", as it can be used as a laundry bag, hamper, duffel and garment bag.
Every little effort counts, will you change the way you care for your clothes?
We'd also love to hear:
What are your eco-friendly laundry care tips and tricks?