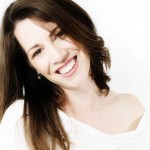 This is the Homemade Body Butter Recipe I shared when I visited Martha Stewart Living Radio!
Enjoy.
I keep a small tub of my homemade body butter recipe in my car and shared some of it with Kadi Prescott – dynamo mother of 7 children. Needless to say – she instantly wanted to know how to make it for her sensitive skinned little one. Because we are both blogging diva's – instead of emailing the recipe to her I told her I'd kick into gear and get the recipe posted.
All of the ingredients can be easily sourced – but the trickiest may be the beeswax. You buy it buy the pound so one block will make a lot of lotion! You can find it at Michael's for $20 – but I found for less money, not to mention a more trusted source on Local Harvest.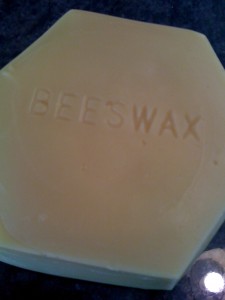 This Homemade Body Butter Recipe has 4-5 ingredients, is easy to make and you'll have the pleasure of knowing every ingredient that went into it.
Honey Citrus Homemade Body Butter Recipe

2 Tablespoons of Beeswax
1/2 Cup of Grapeseed Oil
1 Capsule of Vitamin E Oil
2-3 Tablespoons of Distilled Water
10 Drops of Citrus Essential Oil – or to preference
Homemade Body Butter Recipe Instructions
Combine the wax and oil together in a wide mouth jar. Microwave until the wax is almost completely melted.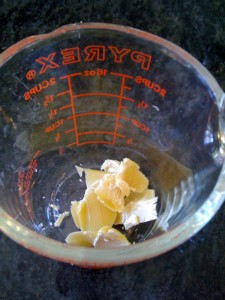 Use a hand blender to whip – ensure it's completely submerged for safety reasons!
Slowly add water and continue to aerate, then add fragrance. It will turn white and be thick and goopy.
Allow the lotion to settle for at least 15-20 minutes.
Scoop into a lotion container of your choosing, empty lip balm tubs.
Apply a small amount to any dry spots and enjoy!
A note about preservation… the vitamin e will help to extend the life of this product, but the formula does contain water… so it will only stay bacteria free for a few days without being refrigerated. I suggest keeping the bulk of your product in the fridge – and pulling out a couple days worth at a time in a smaller container. IF you eliminate the water, then you could keep it out, but I haven't had a chance to test the recipe without water.
NEWSFLASH!
Did you know that I've turned my love for playing around with formulas into a business! If not, be sure to check it out! I've created a line of all natural botanical perfumes! I'm proud to share them with you at www.PNDbotanicals.com. To stay up to date on all the latest diva happenings become a Diva VIP – you'll get free shipping on all orders over $50 and exclusive offers not available anywhere else!

Who knew making your own Homemade Body Butter Recipe could be this simple?