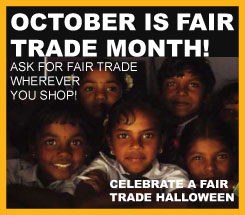 October is Fair Trade Month and Pure Natural Diva will be involved. It's going to be fun. We've planned a few giveaways featuring Fair Trade products and hopefully we'll learn more about an issue that impacts the lives of many.
I know, I know… it's not October yet, so why am I pestering you! Well, there is something you can do right now to ensure that your own Fair Trade Month ends in Spooktacular fashion! IF I wait until October share, you'll miss out.
The Global Exchange's Fair Trade Cocoa Campaign is organizing it's 3rd reverse-trick-treating extravaganza. Sign up today to be one of 250,000 families distributing fair trade chocolate door to door. Have your little ones reverse the Halloween tradition!
The Chocolate will be accompanied by a card informing recipients of poverty and child labor problems in the cocoa industry, affecting mainstream candy enjoyed at Halloween and around the year, and how Fair Trade certified chocolate provides a solution.
The Goal of the program is to:
END poverty among cocoa farmers
END forced/abusive child labor in the cocoa industry
PROMOTE Fair Trade
PROTECT the environment
It is easy to see how having our children participate in an activity like this could transform the meaning of Halloween just a little bit for many families and spread the word.
The chocolate and cards are FREE!
Thanks to generous donations of Fair Trade chocolate companies.
Recipients are charged shipping and packing supplies only, which is $5.50.
If you aren't planning on trick or treating they do have handout that you can distribute to other parents this halloween.
Request your kit TODAY – they always run out long before the deadline – October 13! Available the US & Canada.