There are a ton of green cleaners on the market, but my favorite cleaners are the ones I make at home.
One thing you know for sure, when you make it – you know every ingredient.
You will also save a lot of money, the ingredients are so inexpensive, no wonder the companies that manufacture cleaning products have so much money to spend on advertising! It costs so little to make a batch – it's crazy!
I make it in batches that make 4 28oz bottles.
13 1/4 cups of Water (1 hot)
1/4 Cup of Dr. Bronner's Castile Liquid Soap – I like Citrus for the All Purpose Cleaner
1/4 Cup of Borax
1/4 Cup of Vinegar
Borax Free – The Vinegar & Baking Soda reaction is fun for kids!
NOTE – Cleaning with the following recipe requires rinsing.  I'm working on a reformulation and will leave this posted with this caveat until I have a borax free option that doesn't require rinsing.
10 1/4 cups of water (5 hot)
1/4 Cup of Dr. Bronner's Castile Liquid Soap – I still like Citrus for the All Purpose Cleaner.
1 1/2 cups of Baking Soda
3 cups of Vinegar
Mix the hot water with the borax or baking soda until it disolves.
Once dissolved pour into a bucket – make sure that you have a bigger bucket – the next step will give you a little foaming action!
Add the remaining water, vinegar & Castille Soap.
Use a funnel to pour the solution into the four bottles.
I used to use the Method Products, so I have reused the spray bottles & taken the labels off. Using the handy label maker, made my own labels so I know what's in each bottle and it looks organized.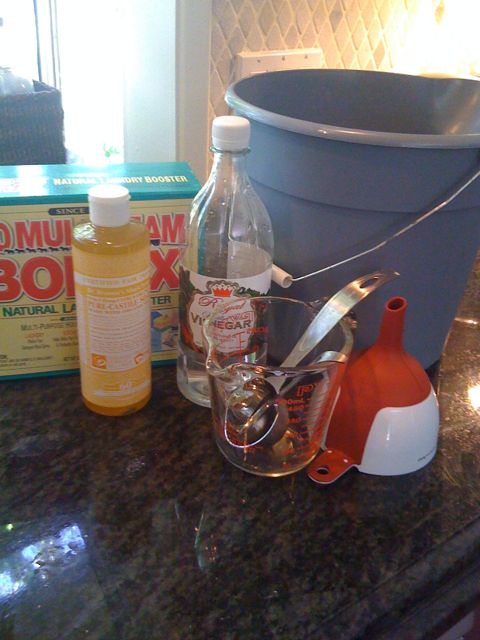 There are rumblings about the safety of Borax and while it certainly appears to be a better option than the chemicals in commercial cleaners, there are people who would prefer to avoid it.
Click here to read what they say at Chemistry.com.
I have posed the question about Borax to the EWG. I'll be curious to hear their response.